Western States' Government Information Day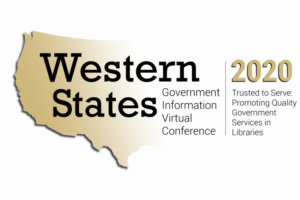 August is the ideal time to learn about government information and government information resources. In addition to Indiana's Government Information Day conference happening next week, the Western States are also hosting a Government Information Day conference.  Their conference is free to attend. Held biennial, this two-day conference is hosted by Government Information Librarians in the Western States and open to all. This year's theme is Trusted to Serve: Promoting Quality Government Services in Libraries. The date for the conference is August 5-6, 2020.
The keynote speaker for the event is Wendy Underhill, Director for Elections and Redistricting at the National Conference of State Legislatures. The conference includes 10 sessions, as well as the keynote address that kicks off the conference. Each session is 30 minutes in length. For those unable to attend, recordings and slides from each session will be made publicly available shortly after the conference.
For more information, including program descriptions, download the conference program.
Government Information Week
The first week of August provides able opportunity to learn more about government information. Join us for many events during Government Information Week – a series of opportunities to gather with government information professionals nationwide. The week will include the following virtual events: