DataPoint IN State Data Center's e-NEWSLETTER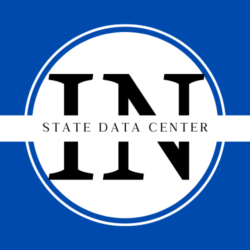 Are you curious about the latest data release from the Census Bureau? Have you been scrambling for the answer to a census data terminology or data documentation question? The Indiana State Data Center @ The State Library has your back! We've been partners with the U.S. Census Bureau since 1978, bringing you the latest information on census data and other federal and state statistical resources. We work closely with Census Bureau staff and professionals throughout the state to answer data requests and soothe any data anxiety that might come your way. Our new e-newsletter, DataPoint, was created for Indiana Data Users just like you. Please subscribe here for the latest Indiana Data news & lore, plus professional development opportunities for data and GIS professionals.
https://www.in.gov/library/collections-and-services/isdc/datapoint,-a-newsletter-for-indiana-data-users/
Archived Issues:
About the Indiana State Data Center:
In 1978, the State Data Center (SDC) Program began as a cooperative agreement between the states and the U.S. Census Bureau. State Data Centers assist the Census Bureau by disseminating Census and other federal statistics.
The Indiana State Data Center makes the Census as well as other federal and state statistics on such topics as demographics and economics available through a statewide network of affiliates located in state agencies, universities, libraries, local planning agencies, small business development centers, and non-profit organizations. We provide data and training services to all sectors of the community including government agencies, businesses, academia, non-profit organizations, and private citizens.  Our products and services are used in marketing, economic development, community planning and analysis, grant writing, business start-ups, and much more.
To learn more about the State Data Center, watch Indiana State Data Center Affiliates and Partners. For examples of the requests we  handle, visit State Data Center FAQs.
Management and leadership for the Indiana State Data Center Program is provided by one Lead Agency,  the State Data Center at the Indiana State Library, and three Coordinating Agencies: the Indiana Business Research Center at Indiana University's Kelley School of Business (Indianapolis and Bloomington), the Indiana Department of Workforce Development (IDWD), and the Indiana Geographic Information Council (IGIC).
Please see our Workshops and Events webpage for current programs and information for your organization or community.