Research Guide – Finding Federal Data Sources
This guide provides a starting point for locating public data from federal sources in print and online for your research. For further assistance, the Indiana State Data Center is available for consultation during the open hours of the Indiana State Library or 24/7 through Ask-A-Librarian.
Population Data
Decennial Census Data Resources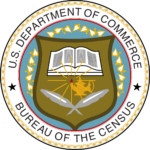 The SDC Program is a federal-state partnership program with the U.S. Census Bureau. Reprints (Ross Publishing) of the original decennial census data volumes for the years 1790-1870 are located on the 2nd floor of the Indiana State Library in the State Data Center alcove, near the Reference Section.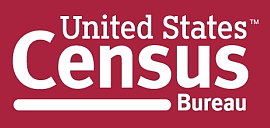 Statistical volumes in print for each census year 1880-2000 are available in the library's Fed Docs and State Data Center collections. Access these records through the library's catalog here. You can request to view these items at the 2nd floor Reference/Information desk. Ask a librarian for assistance locating information about these volumes.
The Census Bureau has digitized official census data volumes for every year of the decennial census. These are available on their Decennial Census by Decade webpage under Decennial Census Official Publications for each corresponding year.
Recent decennial census data (2000, 2010, and 2020) is available for download by using the online data tool Data.Census.gov. Find tips on using the data by watching Census Bureau tutorials from the Census Academy website. You can request individual or group training at no cost by contacting the Indiana State Data Center.
The NHGIS (National Historical Geographic Information System) is a comprehensive source for downloading major decennial census data tables and mapping files for all decennial census years, 1790-2020. Access the data by registering for free on their website.
Decennial census tract and block maps for the 1990, 2000, 2010, and 2020 censuses are available via the Reference Maps webpage on the Census Bureau website. For census maps before 1990, ask the Indiana State Data Center Librarian.
Official Annual Population Estimates and Population Projections
Each year, the U.S. Census Bureau produces official annual population estimates for states, counties, and cities/towns through its Population Estimates Program. When the State Data Center gets asked the question, "What is the current population of Anderson, IN," this is the dataset we use. For Indiana-specific geographies, visit the Population page on StatsIndiana. Access annual population estimate data for other states on Data.Census.gov using the PEPANNRES tables. For more information, see About the Population Estimates.
The Census Bureau issues population projections for community planning following each decennial census. The Indiana State Data Center is a partner in its FSCPE, or Federal-State Cooperative for Population Estimates, which assists in producing the estimates and projections. See the Indiana-specific StatsIndiana page for Population Projections.
American Community Survey (ACS) Data Resources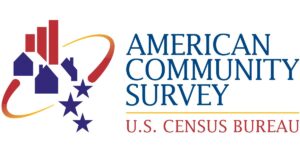 In the 1990s, the Census Bureau began testing a program to provide social demographic data in between decennial census years. The American Community Survey (ACS) is taken every year using a sample of the U.S. population to determine information that was once only available on the decennial census long form. Visit the Census Bureau's list of Subjects Included in the Survey for the most current topics. The ACS data for each year 2010-Present is available for download on Data.Census.gov.  ACS data are released in 1-year estimates (more current) and 5-year estimates (more reliable). The Census Bureau produces ACS user guides for a variety of audiences. Its most recent guide is Understanding and Using ACS Data: What All Data Users Need to Know. Additional guides and handbooks are located online in the ACS Library. StatsIndiana provides Indiana-specific ACS guidance and additional resources here.
Federal Statistics
The U.S. government provides access to public datasets from most federal agencies on its Data.gov website, which makes searching through a tremendous collection of data by topic or keyword easier. You can use its Data Catalog to see descriptions and sort through datasets. If you're searching for data from a specific agency, visit the agency's website. This A-Z index of U.S. government departments and agencies is maintained by USA.gov and is helpful in choosing your agency. Google also has a useful Dataset Search which includes federal datasets.
The Indiana Business Research Center (IBRC) online resource collection StatsIndiana provides access to Indiana-specific federal data sources and guidance on their usage. Its Data Release Calendar is especially helpful, as it shows specific dates for key data releases by federal and state agency. You can also sort the calendar by topic.
The State Data Center's Statistics by Topic is a collection of statistical resources by subject, which will lead you to directly to federal and state agency data webpages.
Economic Data
Indiana Business Research Center (IBRC) Kelley School of Business at Indiana University
Indiana Economic Development Corporation (IEDC)
Indiana Department of Workforce Development (DWD)
National Bureau of Economic Research (NBER)
U.S. Bureau of Economic Analysis (BEA)
U.S. Bureau of Labor Statistics (BLS)
U.S. Census Bureau
U.S. Federal Reserve System, "The Fed"
Guides to Citing Data Sources
The International Association for Social Science Information Service & Technology (IASSIST) provides specific guidelines for citing data. You must include the year of your data, when it was published or released, and information on what organization produced it. View their Data Citation guide here.
The University of Michigan Library also provides useful guides for Citing Government Documents and Citing Data & Statistics.
The APA Style Blog entry How to Cite a Data Set in APA Style is also helpful.