INDIGO – Indiana's Government Information Specialists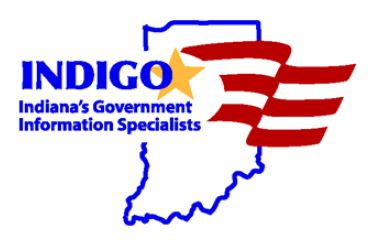 Indiana Networking for Documents and Information of Government Organizations (INDIGO)
The professional organization is a special interest group for state and federal government information. The purposes of INDIGO are:
Providing a forum for discussion of problems and concerns, and for exchanging ideas by librarians working with government information
Providing a force for initiating and supporting programs to increase the availability, use, and bibliographic control of government information
Increasing communication between government information librarians and other librarians
Contributing to the extension and improvement of education and training of government information librarians
Speaking for Federal and State depositories concerning government information issues
INDIGO is the largest group of Indiana government information librarians. Yearly membership is $10, with memberships active from Nov. 1st to Oct. 31st. The group hosts two meetings a year: Spring and Fall. Traditionally, the Spring meeting rotates to different libraries across the state, while the Fall meeting is held in Indianapolis at the Indiana State Library. The group works to promote awareness and literacy of government information. 
Part of their outreach consists of co-sponsoring Government Information Day, a free one-day conference that promotes federal, state, and local government information with the Indiana State Library, as well as presenting webinars on topics relating to government information. The organization is also active with on their listserv to communicate with colleagues, promote interesting discussions, and upcoming events. Their listserv is also a great resource to ask questions relating to government information. For more information on INIDGO, please check out their webpage, IndianaGovInfo.org. Visit the INDIGO Archives page to access older newsletters and meeting minutes.