INDIGO – Indiana's Government Information Specialists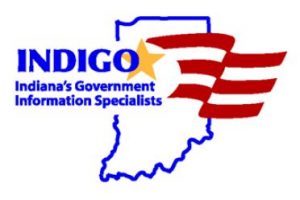 Earlier this month, the professional networking group INDIGO met at the Indiana State Library to host their annual meeting. INDIGO stands for Indiana Networking for Documents and Information of Government Organizations (A Special Interest Group for State and Federal Government Information). This year's meeting features two presentations: navigating PubMed Medline and the Indiana State Archives, plus a discussion business matters in the afternoon. The group holds two meetings a year, one in the Spring and in the Fall. Typically the Spring meeting rotates to different libraries across the state, while the Fall meeting is held in Indianapolis at the Indiana State Library. 
The purposes, taken directly from their website, of INDIGO are:
Providing a forum for discussion of problems and concerns, and for
exchanging ideas by librarians working with government information
Providing a force for initiating and supporting programs to increase the
availability, use, and bibliographic control of government information
Increasing communication between government information librarians
and other librarians
Contributing to the extension and improvement of education and training
of government information librarians
Speaking for Federal and State depositories concerning government
information issues.
INDIGO co-sponsored Government Information Day (GID), as well as co-sponsored two webinars this year on Community Outreach & Engagement and Using IGA.IN.GOV. The organization is looking to continue to engage in educational outreach. The organization is also active with on their listserv to communicate with colleagues, promote interesting discussions, and upcoming events. The listserv is also a great resource to ask questions relating to government information. Be on the lookout for information on the date and location of the Spring INDIGO meeting. A membership to INDIGO is $10 per year. INDIGO also plans on continuing their educational outreach with more free government information themed webinars and presentations in 2019. Check their listserv for information as it arises.