FDLP Webinars Available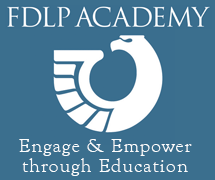 With most libraries in the state closing due to COVID-19, opportunities are available for continuing education. Indiana public librarians are able to earn LEUs by watching webinars through the FDLP Academy Webinars & Webcasts. The webinars are free for anyone to view, last 1 hour, and are generally posted 3 days after the event. As a pre-approved provider for LEUs, prior notice is not needed for librarians wanting to take this time to get their LEUs before re-certification.
The FDLP Academy was created to help promote and educate the library community (and general public) about federal resources and improving government information literacy. The FDLP Academy is a great place to learn about the vast scope of government information, from specific government resources like the Public Papers of the U.S. Presidents, to learning about government resources relating to a specific subject like adoption/foster care. The FDLP Academy also serves as the communication hub for GPO, so be sure to follow their events page to learn about upcoming webinars and events. GPO also welcomes anyone interested in presenting on a government information topic (it does not matter if the topic is broad or specific). If you have any questions about the webinars or how to obtain LEUs, please contact Indiana Regional Depository Coordinator Brent Abercrombie (babercrombie@library.in.gov).