2022 Federal Depository Library Conference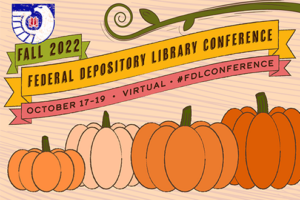 The Federal Depository Library (FDL) conference, host by the Government Publishing Office (GPO), takes place virtually October 17-19. The free, three day, conference kicks off Monday afternoon (12:30 – 5:00 PM). DLC is the largest annual gathering of fed doc librarians and colleagues in the country. Registration is open, and anyone interested in learning about government information is encouraged to attend. There is also a preconference webinar on Wednesday October 12th that will cover updates from GPO's Library Services & Content Management team. The webinar and conference sessions (but not virtual snacks with council) are eligible for LEUs.
As GPO states on their conference homepage, during this virtual event, attendees can:
Participate in collaborative, informative, and interactive sessions presented by the DLC, GPO, and depository library staff.
Network with GPO staff and fellow depository librarians from across the Nation.
Explore poster and exhibitor galleries.
This year's conference features speakers from all over the country, covering a wide range of topics that reflect the broad scope of government information. Over the three day conference, attendees will hear presentations addressing GPO projects and partnerships along with talks that aim to improve access and awareness of government information, and include the FDLP Library of Year Award Presentation. This year's conference has two sessions with local ties. Purdue University's Bert Chapman will present on the U.S. Army Corps of Engineers Information Resources on day 1, and on day 3, staff from Allen County Public Library will share their experience inventorying their federal documents collection. For more information on the conference sessions, check out the preliminary agenda available on the conference homepage, https://www.fdlp.gov/2022-fdl-conference. Below is the DLC schedule as of September 28th.
2022 Depository Library Conference Schedule