Upcoming Free GPO July Webinars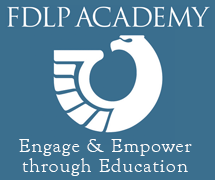 The U.S. Government Publishing Office (GPO) routinely hosts free webinars on topics relating to government information. This July, GPO is hosting three upcoming webinars: There's a Week for That: Exploring Federal Government Resources for Diverse Weekly Celebrations, Next Gen Finding Aid Website, the Bureau of Indian Affairs Photograph Finding Aid, and Maritime Administration Information Resources: Introduction to Its Economic, Maritime, and National Security Information Resources which is presented by Purdue University's Bert Chapman.
The webinars are all available through the FDLP Academy. The academy was created to inform and educate the library community about Federal Government information resources. All webinars are recorded and available for later viewing at the Training Repository. The Training Repository also features subject tags that allows one to search for specific webinars or subjects of interest.
The FDLP Academy also has resources to aid new government documents librarians like the FDLP Coordinator Certificate Program and encourages anyone interested in presenting on a topic to contact the outreach team at GPO. Subscribe to the News & Events listserv to learn about upcoming webinars. GPO webinars are eligible for LEUs.