Swinging into the 1950s! Upcoming Talk on the 1950 Census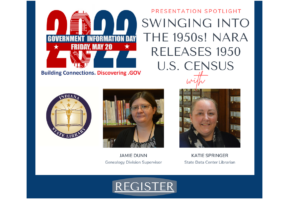 On Friday May 20th, the Indiana State Library is hosting a free one-day library conference Government Information Day 2022. One of this year's conference sessions is a talk by Indiana State Library Genealogy Division Supervisor Jamie Dunn and Data Center Librarian Katie Springer titled Swinging into the 1950s! NARA Releases the 1950 Census. This 55-minute presentation (including Q & A) will explain all the cool and unique features in the upcoming 1950 U.S. Census.
In April, the National Archives (NARA) releases the 1950 census records to the public 72 years after Census Day. Information found within the census traditionally has served as a valuable resource for genealogists. Jamie and Katie will provide a clear overview of what is and what is not included in the soon to be released census, and how genealogists can utilize this information in their own research. Their program will aid any librarians who interact with genealogy patrons or have a personal interest in family history.
Jamie and Katie's talk will be Friday May 20th at 1:30 PM in the History Reference Room 211. Click the link here to register to attend Government Information Day 2022. To learn more the other wonderful sessions at GID22, please see the library's page on the conference here.