Researching Land Patent Records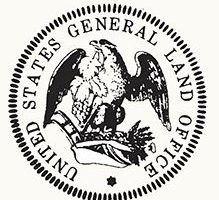 The Bureau of Land Management's (BLM) General Land Office Records (GLO) manages federal land records and offers an excellent resource for federal land records. Researchers desiring to establish the sale of federal land can search the online database using either the grantee's name or the location of the land purchased. The following is written by a researcher detailing how land records aided his research in tracking down the price of land titles.
While researching several plots of land in Indiana towards documenting the succession of ownership, I discovered the original land patents do not include the price paid to the government. They only give section, township, range, and acreage. Here is an example: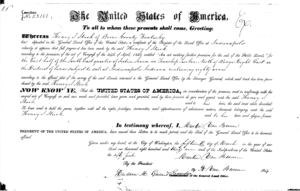 Although the Northwest Ordinance set the price of land at $1 per acre, the price fluctuated through the years. It seems that the price was not included in the deed because the price was set through an act of Congress. We can determine the price the original purchasers paid the federal government from the notation in the GLO document under Authority. The notation indicates which congressional act set the price for that land purchase.
This is a random example of a GLO land record.

When you click on the accession number, you will be directed to a page with more detailed information about the sale.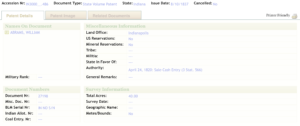 We can determine the price paid to the federal government because the GLO record references Stat 566. This refers to the Harrison Land Act of 1800, which increased the price per acre from $1 to $2. However, in 1804, the act was amended in Statute 566 and the price was lowered to $1.25 per acre. By cross-referencing the information provided under Authority with congressional records, researchers can determine the price set by Congress for federal land sales.
Here is a list of other acts that set the price for federal land. This list is not exhaustive, it is just a few that I have encountered.
April 15, 1800 – Credit Harrison Land Act (2 Stat. 73) $2
April 24, 1820 – Sale Cash Entry (3 Stat. 566) $1.25
February 11, 1847 ScripWarrant Act of 1847 (9 Stat. 123) Military Service Grant $0
March 22, 1852: ScripWarrant Act of 1852 (10 Stat. 3) Military Service Grant $0
September 28, 1850: ScripWarrant Act of 1850 (9 Stat. 520) Military Service Grant $0
July 22, 1854: Private Land Claim (10 Stat. 306) Military Service Grant $0
Additionally, each land office kept a map and a tract book that indicates who bought the land originally and how much they paid. In total, GLO serves as the custodian of millions of title documents, maintaining and protecting the Secretary of the Interior's official copies of over 9 million GLO records. These records are considered vital to the core responsibilities of the BLM, and date back to the 1700s.
This blog post was written by Andy Townsend, public historian and film-maker, in Indianapolis, Indiana.