Occupational Outlook Handbook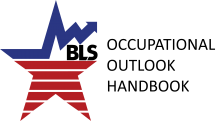 The Bureau of Labor Statistics' Occupational Outlook Handbook (OOH) is the government's premier, and nationally recognized, source for career information. The OOH provides information on what workers do on the job, working conditions, the training and education needed, wages, and expected job prospects for more than 300 occupational profiles covering roughly 4 out of 5 jobs in the economy.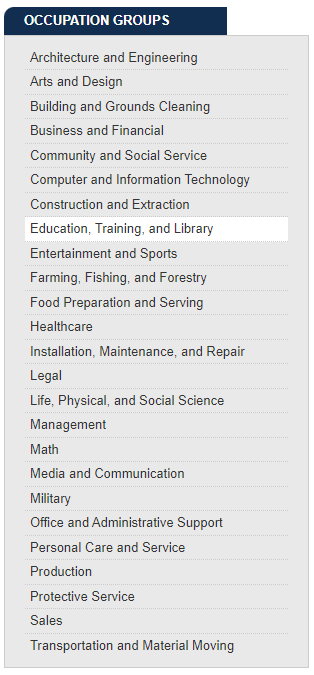 The site allows the user to browse by occupation groups (i.e. Architecture and Engineering, Arts and Design, etc.) pay (data pulled from 2021), education, growth rate, training, or by the number of new jobs. In order to find a career or occupation, browse the occupation groups listed on the left-hand side of the homepage, or search the A–Z Index for a specific occupation. The Occupation Groups provide a brief overview of the field, and include more specific occupations along with a job summary, entry-level education required, and median salary.
OOH also allows users to research careers besides besides occupation, including by pay range, entry-level education, on-the-job training, projected number of new jobs, or projected growth rate. Individuals can find high paying careers or discover occupations that are in demand currently. If there is a specific occupation of interest, enter the job title into the "Search Handbook" box on the top right-hand side of the homepage. OOH also has browsable sections on jobs by highest paying, fastest growing (projected), most new jobs (projected), and field of degree. There is also a resources section on the site that includes a FAQ section, glossary, Teacher's guide, and Career Outlook.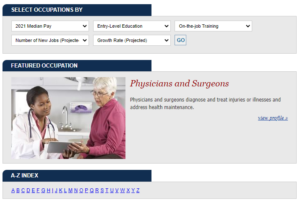 OOH is a great resource for those undecided on their career path. The Occupation Finder is an excellent tool to help identify potential careers based on one's education, job training, new jobs available, job growth, or salary. For example, film and video editors on average earn between $60,000-79,999 a year with a Bachelor's degree in a job market that is expected to grow at a rate much faster than average. The Occupation Finder can help influence which major to pursue in college.
The Teacher's Guide section provides a nice overview to help explain how to navigate the site, explain how the data is compiled, and explain how students can use this information to make informed decision on their career paths. Using the OOH, students can explore different aspects of occupations by clicking on the following tabs:
What workers do on the job
Work environment
Education, training, and other qualifications needed to enter the occupation
Pay
Projected employment change and job prospects
State and area data
Similar occupations
Contacts for more information
The OOH is also now available on mobile devices. The Bureau of Labor Statistics has developed the CareerInfo app that is now available for Apple IOS and Android devices. The app features the same information found on OOH, but with additional features that will enable users to personalize the app by filtering searches and by "liking," saving, viewing, and comparing favorites.
Webinar
Domingo Angeles, Economist, Employment Projections Program, Office of Employment and Unemployment Statistics, at the U.S. Bureau of Labor Statistics presented a webinar on the Occupational Outlook Handbook January 19th, 2023. The webinar was hosted by the Government Publishing Office and archived to view.