National Mental Health Awareness Month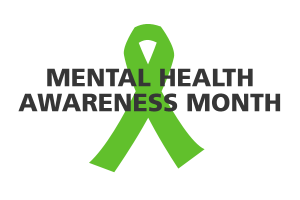 At the start of May, President Trump proclaimed the month of May as National Mental Health Awareness Month. Originally established in 1949, National Mental Health Awareness Month recognizes millions of Americans affected by mental illness and works to ensure care and treatment for those who are suffering. Nearly 10 million Americans suffer from mental illness, and even worse, approximately 60 percent of adults and 50 percent of adolescents are unable to get the treatment or service needed for proper care.
Another goal for Mental Health Awareness Month is to raise awareness of the trauma and impact mental illness can have, physically or emotionally, on others. Various government agencies have created helpful resources related to mental health awareness. Mental health is an essential part of a person's overall health, and with preventative work and treatment, people are able to recover from their mental disorders to live full productive lives. Please visit Youth.gov for information on how to address mental health and well-being with children. The National Institute of Mental Health is the largest scientific organization that focuses on the study of mental health. Finally, visit Mental Health.gov to learn the basics, identify warning signs, how to talk about mental health and to receive help.