National Cybersecurity Awareness Month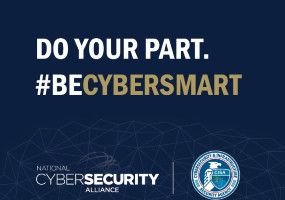 October is National Cybersecurity Awareness Month (NCSAM), which continues to raise awareness about the importance of cybersecurity across our Nation, as well as ensuring all Americans have the resources they need to be safer and more secure online. Celebrating its 17th year, this year's theme is "Do Your Part. #BeCyberSmart."
The Cybersecurity & Infostructure Security Agency (CISA) has compiled tip sheets and resources aimed at reducing cybersecurity risks and protecting yourself online. NCSAM emphasizes the belief "If You Connect It, Protect It." Throughout October, CISA and the National Cyber Security Alliance (NCSA) will have focus every week this month on a specific area with promotions and outreach.
October 1 and 2: Official NCSAM Kick-off
Week of October 5 (Week 1): If You Connect It, Protect It
Week of October 12 (Week 2): Securing Devices at Home and Work
Week of October 19 (Week 3): Securing Internet-Connected Devices in Healthcare
Week of October 26 (Week 4): The Future of Connected Devices
Use NCSAM's hashtag #BeCyberSmart before and during October to promote your involvement in raising cybersecurity awareness. CISA offers cybersecurity resources to share with your communities. These tools and resources are not only valuable during National Cybersecurity Awareness Month. They provide best practices and guidelines that are helpful throughout the year.