Internal Revenue Services

It is tax season, and April 15th is just around the corner. The process of filing taxes may be unpleasant or tedious, but it does not have to be overwhelming. While many people have a negative view regarding the Internal Revenue Services, their website, https://www.irs.gov/, offers helpful guidance, information, and provides all the required forms needed to file one's taxes. With expert advise and easy to follow steps, the IRS is making it easier than ever to file taxes and receive a refund. I encourage you to take some time to explore their website to see how this government agency can help you.
The image above depicts the homepage of the IRS. Their site contains easy to follow headers that contain everything needed for filing taxes, an explanation of their various forms, ways to make payments, obtaining credits or deductions, and securing a refund. Their website also includes advice and tutorials for handling your taxes (scroll down to the bottom of this post for direct links). The information is targeted to various groups: beginners, professionals, individuals, and businesses. Additionally, the IRS offers users the ability to electronically file their federal taxes for free. Whether it is needing help preparing taxes, filing taxes, or checking the progress of your refund, the IRS can provide quality information and advice for free.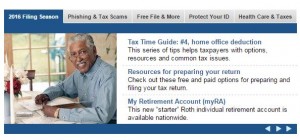 Additional Resources: