Homeschooling Resources for Hoosiers talk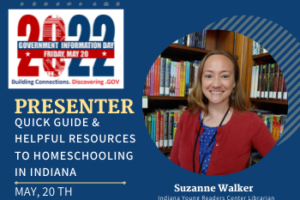 On Friday May 20th, the Indiana State Library is hosting the free one-day library conference Government Information Day 2022. One of the event's sessions is a talk by Indiana Young Readers Center Librarian Suzanne Walker titled Quick Guide and Helpful Resources to Homeschooling in Indiana. This 55-minute (including Q & A) program will provide a nice overview on homeschooling in Indiana and online learning resources.
Suzanne's talk will be helpful to anyone interested in learning about how homeschooling in Indiana works or where to find quality online learning resources. When families decide to homeschool their children, it is up to them to find appropriate programs and materials to educate their children. The state recommends families search the internet to find those options and libraries can serve those families by helping identify online learning options. The state's Department of Education offers helpful information online but has limited consultation services compared to a local library that serves their community.
Suzanne will outline how to navigate homeschooling and offer tips and techniques to incorporate educational resources from government information. Click the link here to register to attend Government Information Day 2022 at the Indiana State Library. To learn more the other wonderful sessions at GID22, please see the library's page on the conference here.
*Update – Suzanne's program is eligible for a TLEU!