Government Information Day 2020 Registration Open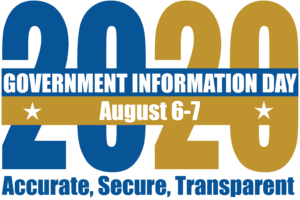 Registration for Government Information Day is now open! Typically a one-day conference, GID2020 will now be a two-day virtual conference. The event features 7 different sessions relating to promotion of government information resources and literacy. Attendees are asked to register for each individual session of interest. Please contact Brent Abercrombie, babercrombie@library.in.gov, for any questions, or issues with registering for the event. Government Information Day is Thursday and Friday, August 6th and 7th.
GID Registration link, https://feddocs.lib.in.us/gid-registration/.
Additionally, FDLP libraries in the Western States are hosting Government Information Virtual Conference, on August 5-6, 2020. Both groups are working together to promote both events as part of Government Information Week. There is now an opportunity for librarians to view government information themed presentations Wed., Thur., and Fri., with a regional coordinators (REGIL) meeting on Tues. The first week of August will be referred to as "Government Information Week." Please click on the link below to view the flier.