Government Information Day 2018 Recap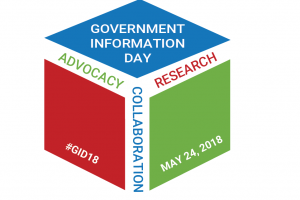 On Thursday May 24th, the Indiana State Library hosted our 3rd Government Information Day (GID). This year's theme was Advocacy, Research, and Collaboration. The Government Information Day events were created to promote the awareness of various government resources at the federal, state, and local level, and to inspire collaborative efforts among librarians, libraries, and government entities. This collaboration improves staff and patron's ability to access and utilize government resources. This very successful conference hosted over 100 attendees.
The keynote speaker for this year's conference was Cynthia Etkin, Senior Program Planning Specialist in the Office of the Superintendent of Documents, U.S. Government Publishing Office (GPO). Ms. Etkin spoke to attendees about the history of GPO, and the important role libraries play in the dissemination and access of government information. Ms. Etkin urged librarians to be promoters for transparent government information, and promotion of their library's government documents collections. Each of GID's 8 sessions actualized her message, and was presented with the purpose of raising awareness of a particular government resource, or collaborative project.
GID included training sessions on navigating government sites Govinfo.gov and USA.gov, a talk on the importance of the upcoming 2020 census, researching historic census material, overview of the Indianapolis Mayoral Archives, an introduction of Indiana Legislative Services and tools available through the Indiana General Assembly website, a discussion on the impact of decreasing print collections on libraries, as well as a talk on detailing the Preservation Steward Partnership with GPO. In addition to the presentations, GID also featured exhibitor booths from 16 different state agencies and 2 professional organizations. Attendees were allotted two separate time periods to interact with exhibitors to learn about government services offered or professional organizations to join for improved networking.
Government Information Day represents a day to promote, advocate, and learn about government information resources and topics. The event provided the opportunity to interact with other library professionals interested in government information. The goal of Government Information Day was to provide an opportunity for library professionals from various backgrounds to learn about new resources and services, as well as gain a better perspective on the scope of government information. While GID18 is in the books, early planning has already begun on the next Government Information Day slated for May 2020.
Photographs from the Conference