Federal Agency Resources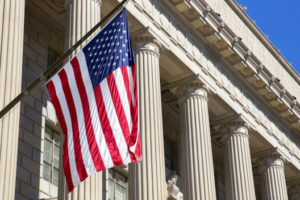 With social distancing still in effect, it is harder to identify what help is available. Federal agencies are also continuing operations and updating content during this time. Accurate, reliable information is needed more than ever. The FDLP compiled a list of federal agencies who offer helpful relevant information for the general public. The links below represent a small percentage of official government information available through federal agencies.
Here's the list:
Benefits.gov: This website helps people get connected to benefits they may be eligible for, including COVID-19 benefits. Your patrons will fill out a questionnaire on the Benefit Finder tool and be connected to benefits they might be eligible for.
SSA.gov: On SSA.gov your patrons can apply for retirement, disability, and Medicare benefits; check applications or appeals; estimate their benefits; request a replacement Social Security card; or print a benefit verification letter, all from the comfort of their homes. A mySocialSecurity account is needed to access most services, but patrons can sign up from this website.
MentalHealth.gov: MentalHealth.gov provides Government resources about mental health to the general public. Information comes from agencies including the Centers for Disease Control and Prevention, National Institutes of Health, National Institute of Mental Health, youth.gov, and the Substance Abuse and Mental Health Services Administration. The web page provides basic information on mental health for veterans and the general population, dispels myths, and directs users to where they can get help.
Foodsafety.gov: This frequently updated website provides information to the general public on food safety information from Government agencies. In addition, there is information on how to report food poisoning and lists of recent recalls and outbreaks.
Coronavirus.gov: Created by the White House, the Centers for Disease Control and Prevention, and the Federal Emergency Management Agency, Coronavirus.gov was created to provide Americans with updated information on the ongoing pandemic. Here you can find answers to frequently asked questions, information on what to do if you think you have the virus, and the latest news and updates on Coronavirus cases.
FDLP also created a helpful toolkit on the topic.