New Indiana State Housing Dashboard Released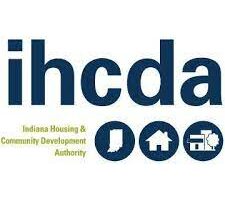 The Indiana Housing and Community Development Authority (IHCDA) released a new online tool called the Indiana Housing Dashboard. The new tool allows data users to access data and create reports based on current housing needs by county.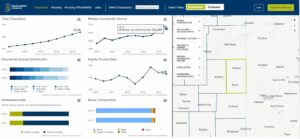 Across the top of the website, choose to view the current demographic, housing stock, affordability measures, and jobs in your county (Adams County shown visualizing population data above). Compare these housing topics for up to three counties at a time. Create a report (Adams County report) based on the housing measures in your county.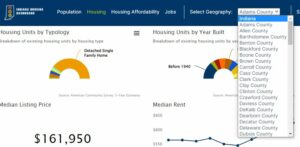 The new dashboard lets you select counties from a dropdown menu or click to select a county in an online map. Each report automatically lists the data sources used in creating its graphics. The dashboard also features an "Info" button in the top right corner of the site (see image below) to access the user guide and training video.

The Indiana Housing Dashboard is designed to guide discussions and decisions for groups who influence their housing market.  These may include: IHCDA, elected officials, government and non-profit organizations, builders and developers, and anyone passionate about their community's quality of place and life. The IHCDA provides tips on how to navigate the new tool in its newsletter. Please subscribe at ihcda@subscriptions.in.gov.