2017 Depository Library Conference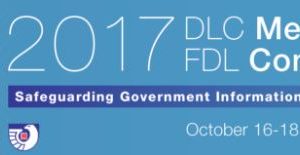 October 16 to 18, is the date for the upcoming 2017 Depository Library Council Meeting and Federal Depository Library Conference. Held at the DoubleTree Hilton Hotel in Arlington, VA, this two and half day conference is the largest annual gathering of Federal depository librarians and colleagues in the country. This year's conference theme is Safeguarding Government Information Access for All. The event features three keynote speakers: Dr. Carla Hayden, Librarian of Congress, Ms. Jane Sanchez, Law Librarian of Congress, and Mr. James LaRue, Director of the American Library Association's Office of Intellectual Freedom.
The conference includes an overview of GPO and its current projects, discussion of current issues relating to government information, and various sessions and posters promoting government information. For those interested, but unable to make it to Washington DC, you can register to attend virtually and view live streaming sessions from the Crystal Ballroom. For anyone attending, please feel free to say to me, Brent Abercrombie – Regional Federal Documents Coordinator of Indiana, and go to lunch with other Indiana librarians. Hope to see you there!